Wizata's platform is a growing roster of AI-powered machine-learning-based applications. Our teams of experts constantly look for ways to improve the existing software, and there are always new solutions in development that our partners request.
The goal we strive for is to make complex industrial processes easy to navigate, oversee, and control on the one hand and to reduce energy and manufacturing costs and make everything work more efficiently.
PROCESS ENGINEER
Process engineers have the responsible and demanding task of overseeing complex industrial processes that often involve vast networks of machines and conveyor belts. Wizata's software gives process engineers access to tools that can make their job more straightforward.
Simple scaling - A solution you've found for one process can easily be translated to other similar manufacturing processes.
Test & run models - Our software allows for quick tests for a variety of models you came up with.
Fast results - One of the benefits of using AI to oversee your company's production output is the staggering speed of obtaining output data.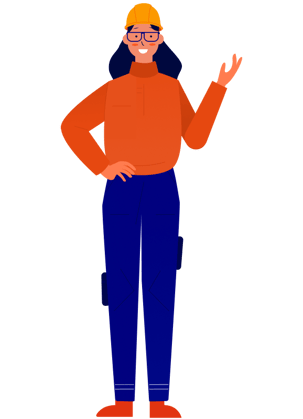 MANAGER
Keeping up with a seemingly endless to-do list that keeps expanding all the time is a common workday for a production manager. Our app makes delegating tasks easy, intuitive, and quick.
Mobile-friendly -As a manager, you don't have time to sit in front of your computer constantly. For this reason, our developers make sure that our software is mobile-friendly.
Personalized dashboards -Our applications allow you to customize your dashboard fully. This makes task delegation and tracking alerts an easy and intuitive task.
Every asset in one place -At Wizata, we create apps that allow you to easily and promptly access all of your crucial software assets in one place.
OPERATIONS
To find solutions on the spot for various challenges that spring up in an industrial setting, operations technicians need quick and steady access to information and software assets.
Centralized information -Our apps allow all team members to communicate and share crucial data easily and in real time.
Ready-to-Use AI -Our applications are so helpful for technicians and operations managers - seamless communication and AI can find where the holdup is in a machine right away.
Real-time Assets -Our apps are powerful enough to move vast amounts of data in real time, giving you enough room to make an educated decision about a process you're overseeing on the spot.
We pride ourselves on designing applications that can be used by CEOs, managers, technicians, and employees of all positions within a company. To make this possible, we aim to encompass all of the needs and requirements of a company's roster of people. We go out of our way to make our apps simple to access, visually well-covered, and fit with an intuitive and easy-to-grasp interface.
We strongly believe that the software you use for your company's industrial processes should be error-free, easy to use, and provide plenty of options that can put you at the helm of an AI-powered machine-learning-based platform today.
Lean On The Experts
You don't have to do it alone. Our team of experts is waiting to help you.
Use cases
Start trial