2023 is around the corner, and many of you are well-advanced with AI projects or are thinking about it for next year. In order to help out, we've created this report about where the industry is going. This is our holiday gift to you, from Wizata with love.
---
or
Let's dive into the highlights 👇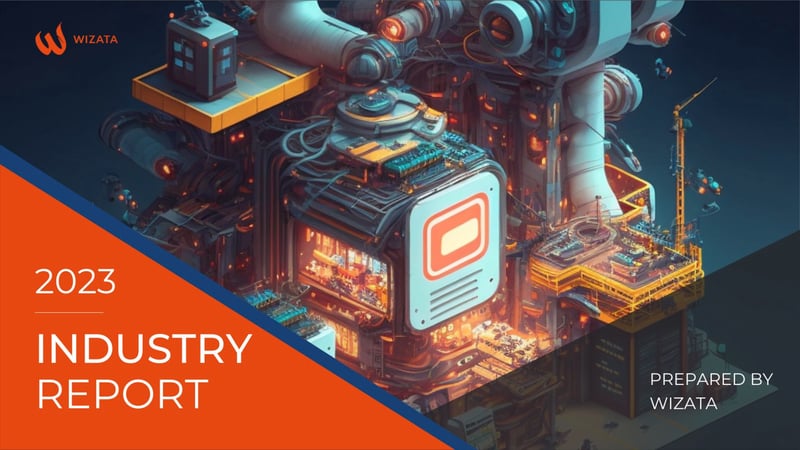 We surveyed IoT Integrators and Manufacturers worldwide to get insights on AI's current state and future outlook in the industry.
Here are some highlights of what we found:
1. Process Optimization and Quality Control are the most commonly used AI applications.
AI can boost efficiency and effectiveness by optimizing your business processes and ensuring top-notch quality. Whether it's analyzing manufacturing, managing supply chains, or providing top-notch customer service, AI can identify inefficiencies and streamline your operations.
For quality control, AI can leverage machine learning to analyze your production data, test your products, and monitor your equipment to make sure everything is running smoothly. The result? You'll save costs, increase competitiveness, and have happier customers thanks to your top-notch products and services.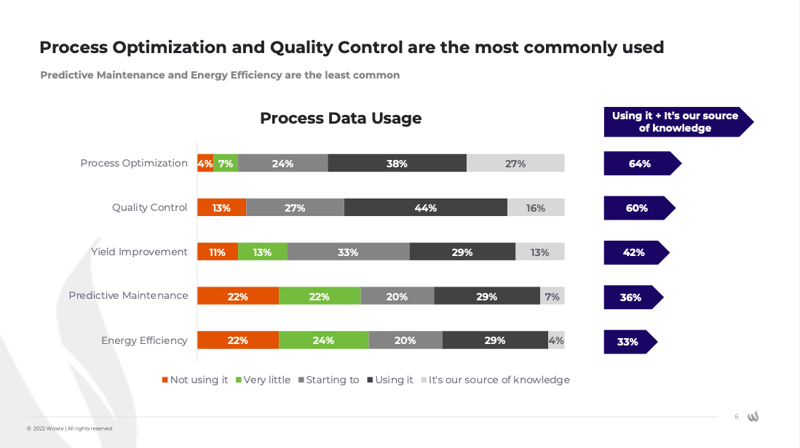 2. Manufacturers see the most value for their business in Energy Efficiency, Predictive Maintenance, and Process Automation.
It might look like an obvious answer, however, over the last year, we've seen an enormous focus on energy efficiency due to the rising energy prices and more restrictive governmental laws around the world.
One of the good things we've learned while working with our partners is that process optimization has secondary benefits such as waste reduction, yield improvement, and energy efficiency. The main goal might be to optimize the process, but as you guessed, energy is part of that process. Hence a more efficient process means more optimal energy consumption (we have a full article on this on our website)
New business opportunities around key partners and technology players have also been a growing trend in 2022. From OEMs to other tech providers partnering up with AI experts.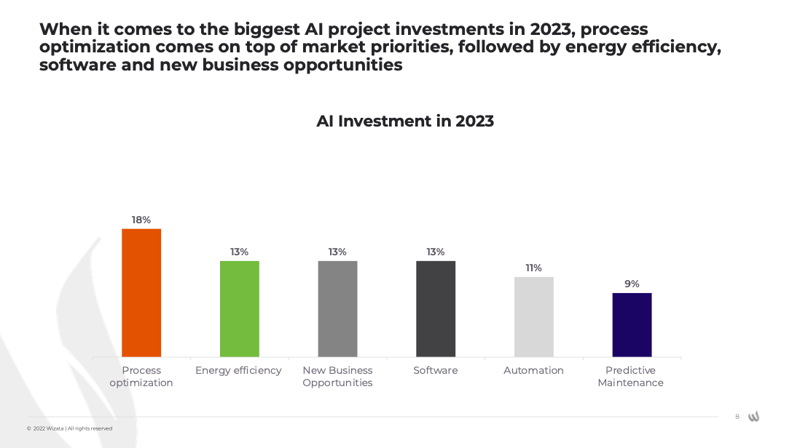 3. The biggest challenges businesses face when implementing a new AI project include a lack of knowledge/expertise, internal obstacles, and data issues.
Implementing an AI project can be complex and requires a certain level of expertise. If your business does not have the necessary knowledge and expertise in-house, you may need to seek external help or invest in training for your employees. For example, there may also be resistance from employees who are afraid of being replaced by AI, or management may not fully understand the potential benefits of AI and how it can be used to improve processes and decision-making.
These might seem common practice, however, we've encountered it each time. One thing you can do to overcome it is to propose creative business models to collaborate closely with clients and demonstrate ROI for the project.
Nevertheless, at Wizata we've created the Espresso 4.0 podcast to discuss these topics and shine some light on how you can navigate them.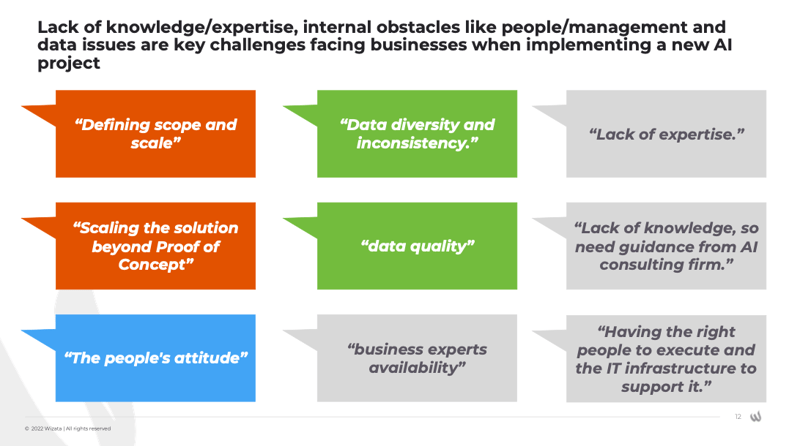 In conclusion, the report highlights the importance of AI in optimizing business processes and ensuring quality control, as well as its value in areas such as energy efficiency, predictive maintenance, and process automation.
Businesses will face challenges when implementing AI projects, including a lack of knowledge and expertise, internal obstacles, and data issues. It is our role as a community to help level up the industry by providing value and sharing best practices.
There is more to unpack on the full report, so be sure to get a copy for yourself and share it with other industry leaders.
Finally, we'd like to thank everyone who participated in the survey for their valuable insights and contribution.
As the holiday season approaches, we wish you, and all industry lovers, a wonderful holiday and a successful year ahead.
Stay safe and have a great time!
---
That's all for today.
Be sure to catch us for the next one.
Cheers!😄
Ricky
---